Benefits Of Google My Business In 2022
Introduction
The development of technology has made corporate marketing simpler. Aside from marketing, business processes and the method it is conducted are also getting simpler day by day in light of technological advancement. One may now easily access different products or shops from their phone with only a few clicks. In order to get the maximum traffic and gain customers worldwide, one can put their company or organization on "Google," the most popular search engine in the world.
But do you know?
Google currently holds more than 92% of search engine market share. 
Is it possible to get the business listed on google?
Yes, it is possible through google my business.
Now let's have a brief understanding of Google My Business.
What is Google my business and its benefits?
Google my business is a business local listing site from Google. Here, any business can create their business profile free of cost and make their organization accessible for the customers from any corner of the world. Listing of a business includes details of the business-like name, phone numbers, address, reviews, products and services dealing with along with the photos as well as business location. 
Google My Business benefits:
Useful for Local SEO

Collecting reviews & building credibility

Business info listed directly from the Google

Free of cost

It acts as a Marketing and communication tool

Google My Business Insights and its benefits for analytics

Ease of Use
Why is Google my business important? /What is Google my business used for?/How does google my business work?
If you want customers from your local area to reach out to your business even when they don't know about your business, if your products and services have high demand in your specific areas then, here Google My Business helps one find the products and services that they are looking for and if your business is listed on google, it makes it more convenient for the buyer to reach out to your business for the products and services.
What is Google my business optimization?/What is google my business in seo?
Google My Business Optimization is the process of improving your position by optimizing your Google My Business profile using a variety of techniques. Here are some techniques for improving your profile for better results:-
Claim your company profile.

Add the relevant information

Take care while providing contact details.

choose out the major and secondary categories.

Check off the corresponding qualities

Completely describe the business in your writing.

Weekly Google post publication

weekly fresh pictures upload

Answer inquiries

Gather feedback and reply to it

Include your merchandise and/or services

Configure messaging

Maintain your Business Profile
What is google my business verification code?
Google provides a verification code to the registered address by postal mail when a user registers their business on "Google My Business" for credibility and authority purposes. The user must input the verification code in the "Google My Business Verification Area" to validate their business.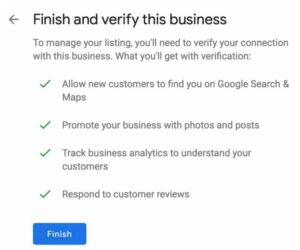 What is Google my business API?
Google My Business API is nothing but an interface that helps in managing the business location information frequently on Google.
How to login Google my business? 
You can login Google my business through your registered gmail id.
To login click the link below:- 
What are the recent updates on Google My Business? 
Recently, Google My Business has changed their name as a Google Business Profile with some new features that will help the local business in getting ranking and better traffic. 
You may now access your GMB in Google search and maps, which was previously unavailable.
Conclusion 
Google My Business should be used by every business that wants to expand its local clientele base, exposure, and revenue.
Google My Business is a free, user-friendly service that both small and large businesses may use as part of their online marketing plan.
The advantages of Google My Business are numerous, and businesses who invest the time to monitor and enhance their profiles are more likely to expand their client base and increase local foot traffic and sales.
The benefit of local SEO, in particular, is the free publicity you receive.
If you want to do SEO for your business, you can reach out to us at Creative Media House